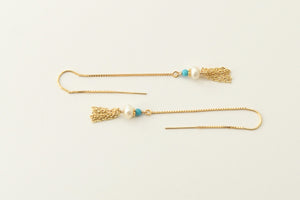 Beyond the Brand
About The Designer
Debra's career began as an apparel designer in NYC. She is a graduate of the University of Cincinnati's college of Design, Art, Architecture and planning (DAAP) with a Bachelor of Science in design.
Majoring in fashion Design with a minor in Fine Arts. Although her background was in fashion, her true passion is jewelry, having taken silver smithing, lost wax casting and enameling. During her apparel career, she started her jewelry business and sold to NYC boutiques.  She relocated with her  husband to the Washington DC/NVA area and continued her business there. 
Debra's style is very feminine with a "modern vintage" or "classic with a twist" feel. She unites fine art with fashion when designing her pieces that are sophisticated, elegant and handmade by the designer herself.
She incorporates pearls for her days of classic black and special occasions, semi precious stones; such as labradorite and tourmaline, for her bohemian looks.
She loves the layering concept of wearing a couple necklaces at a a time or a wristful of bracelets. Old and new mixed together is her  "signature" with inspiration from Chanel, Miriam Haskell and her print/textile background.  Gold, vermeil and sterling silver are the metals of choice along with some exclusive casted and hand tooled pieces. 
For more information about the design click to expand.
Attention to the smallest of detail is taken in her distinctive earrings for every day or special occasion. They are timeless, yet modern with remarkable quality and craftsmanship.
The necklaces in the collection are handmade by the designer herself. Carefully choosing semi-precious stones and pearls, the pieces are classic styles in contemporary designs to be worn again and again.
Taking a sophisticated approach to designing, she creates feminine and timeless pieces. Bracelets can be worn layered, stacked or on their own creating an individual style.
The gemstones are naturally occurring and hand-cut. The pearls are cultured freshwater. Inclusions in the stones and pearls add to the beauty and uniqueness of each piece.